Find, recruit and retain the right talents for your company
Digital HR Marketing & Employer Branding
You know the challenge of recruiting new motivated employees for your company. And you know very well that the search for qualified specialists and highly specialized high potentials costs time and money. With the right strategy for your HR marketing, you can strengthen your employer brand and find the talents you need. Use digitalization for successful application and personnel management with solutions that fit your budget. We have some good suggestions for you.
NEXUM IS ONE OF THE 5 BEST EMPLOYER BRANDING AGENCIES IN GERMANY
Awarded with the Potentialpark Agency Award
---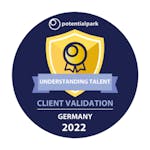 Consulting & agency for digital employer branding
For more than 10 years, we have been working as an employer branding agency for Fresenius, Adecco, Peek & Cloppenburg, DIS AG and other customers. Our commitment to targeted HR marketing does not end with the initial launch of a new product. In direct exchange, we continue together, just as you wish: as a reliable partner in terms of consulting and operational implementation.
What else can you expect from us? No standard procedure. But instead, concrete solutions put together for your company from a single source that fit your requirements, the general conditions and your budget.
Your digital Employer Brand
Do you know a thing or two about the battle for the best talents? Then you know how valuable your employer brand is. It belongs in good hands! We have experience in sharpening digital employer brands and making companies' values visible to the outside world. And that's how we bring companies to the top of employer rankings. Because we know what is particularly important to potential employees, where and how we can best reach your target group.
MODERN RECRUITING
Adecco
The Adecco Group is one of the world's largest providers of personnel services and places jobs with applicants and employees with companies. We are the digital lead agency for the Adecco Group Germany and support in particular the brands Adecco Personaldienstleistungen, DIS AG, Modis, Badenoch + Clark as well as the Adecco Group Germany with a holistic digital strategy:
Marketing Strategy: Content Marketing and Social Media
Websites, relaunches and campaign landing pages
Automating candidate discovery with Salesforce Marketing Cloud
Conception and implementation of your career site
The career site is the heart of your employer branding. It is the digital stage for your employer brand, where you present your employer value proposition, acquire your candidates with stories and guide them into the application funnel. In order to achieve this in the blink of an eye, it is not only important to have the right content, but also to be able to manage it effectively.
We advise you on the choice of system and develop it further for you. We take care of the full integration of an application management system and other software connections. We ensure the right staging of your content with a design tailored to your employer brand and content tailored to the target groups. Of course, we also provide SEO. Are you a global player? No problem. We also support you with the international rollout.
Ongoing optimization of the Candidate Journey
Hypotheses are good, data is more important to increase traffic and leads. Only when it is clear at which touchpoint the applicants lose interest can targeted countermeasures be taken. The results of our user and A/B testing, also internationally, are the decisive basis for our optimizations of the application funnel. In addition, they are the perfect basis for creating meaningful reports for various stakeholders in the company.
MORE EFFECTIVE EMPLOYER BRANDING AND RECRUITING WITH CANDIDATE PERSONAS
Peek & Cloppenburg
Creation of candidate personas to optimize the performance campaign for the high school graduation program at Peek & Cloppenburg: Customer personas are now an integral part of successful marketing and e-commerce strategies. A precise idea of the target group and the personas helps to address marketing actions correctly and thus increase the sales of a product. The persona approach is also gaining importance in other areas. It simplifies the search for suitable candidates in the recruiting process and strengthens the employer brand.
Suitable talents have been found?
With the use of modern Intranet & Digital Workplace solutions, you bind employees to the company at an early stage.
The ongoing digitization of the world of work represents a major challenge for your company - and also for your employees. It's not just about digitizing work processes. It's about implementing a new way of thinking. With our consulting and the right tools, information and communication channels, we support you in this immense challenge. Invest now in the customized digital workplace. Whether social intranet, collaboration tool or corporate wiki - we accompany you on your way to intranet 4.0.
STADTENTWÄSSERUNGSBETRIEBE KÖLN
Digital Workplace mit Confluence und Linchpin
"With the new intranet, we as a company are taking a new approach to collaboration. The new StEBnet promotes dialog, transparency and participation and thus simplifies our daily work. As a general contractor, nexum AG provided us with extensive support at all levels: from kick-off to concept, development, pilot operation, training and editorial rollout, we were always able to rely on nexum AG's expertise." - Stefan Sonntag, Project Manager StEBnet II